Stephen Crabb pulls out of Tory leadership race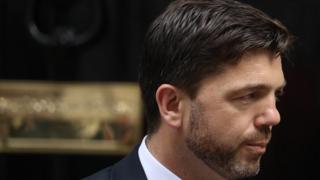 Stephen Crabb has pulled out of the Tory leadership contest after coming fourth in the first round of voting.
Some 34 MPs backed the MP for Preseli Pembrokeshire.
Theresa May leads on 165 votes, while Andrea Leadsom came second on 66. Michael Gove was third on 48 votes, and Liam Fox eliminated with 16 MPs supporting him.
Mr Crabb, Work and Pensions Secretary, said he will support Ms May for the leadership contest.
Mr Crabb told the BBC News Channel: "Tonight we need to recognise that there is only one candidate in a position to unite our party and to form a cohesive and strong government which our country needs at this time."
He said he will be lending his "wholehearted support" to Theresa May who he said is "overwhelmingly in the best position to be the next prime minister".
The three remaining contenders have until 09:00 BST on Wednesday to confirm if they are still running, with a further ballot taking place on Thursday.
'One Nation'
Craig Williams, MP for Cardiff North and also supporting Mr Crabb, said prior to the announcement: "I am really pleased to have been associated with Stephen's campaign.
"He's a great One Nation Conservative. His social values clearly need to be taken into the new government."
David Jones, the Conservative MP for Clwyd West and Theresa May supporter, said the result of the ballot was "absolutely excellent".
He said: "Half of the parliamentary party have supported her - this is a very strong indication of the esteem in which she is held. I am very hopeful that she will go on to win."
Chris Davies, the MP for Brecon and Radnorshire and Michael Gove supporter, said he hoped that the final two contenders would be Theresa May and Mr Gove.
He said: "I have a feeling that Theresa would win. I would be happy with either".
Frontrunner Ms May said she was "pleased" by the result and "very grateful" to her colleagues.
She said: "There is a big job before us: to unite our party and the country, to negotiate the best possible deal as we leave the EU, and to make Britain work for everyone."