From the Wales Bill to Brexit: Crabb's bid for top job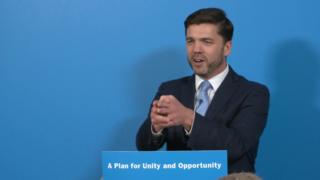 I've been to the launch of Stephen Crabb's campaign to become leader of the Conservative Party.
A small room at the RSA near Charing Cross was packed with Fleet Street's finest and almost as many cameras as you might see at a Premier League football match.
He was introduced by Business Secretary Sajid Javid, who would be chancellor in a Crabb government. It's unusual in British politics to run as a "dream ticket" and handing out jobs in advance can be a risk if it alienates those hoping for promotion.
The @CrabbforBritain slogan is "A Plan for Unity and Opportunity" - three things few could object to. His plan will not involve another referendum - "Brexit must do what it says on the tin" - or a snap general election.
'Immigration'
He said the message from voters in last week's referendum was that they wanted to take back control of immigration - a "red line" in the negotiations to take Britain out of the EU.
He said it had left him very worried about the future of the UK. He would invite the mayor of London and the first ministers from Wales, Scotland and Northern Ireland to sit on an 'advisory council' ahead of those negotiations, although UK ministers would have a majority.
There were enough references to his humble upbringing to fill a whole line of Crabb bingo - council house, comprehensive school, rugby etc - but it's understandable he uses his background as it's still unusual for a Conservative politician and it contrasts with that of one of his main rivals, Boris Johnson.
'Inexperience'
He denied claims of anti-gay prejudice and said he was happy with same sex marriage, even though he voted against it. He was challenged on his inexperience. He pointed out that he's been an MP for 11 years and worked in government since 2010, becoming a cabinet minister two years ago.
I got to ask the last question - or as Mr Crabb put it: "I'm going to take one final, final question from David Cornock from BBC Wales because he knows too much about me....but only if it's about the football..." .
I decided to save the football for later, and focus on his day jobs. As secretary of state for Wales, he set himself the task of achieving a cross-party consensus on the way ahead for devolution. I pointed out that it hadn't all been plain sailing. If he couldn't reach a consensus on devolution, how could he negotiate Britain's departure from the EU?
"We did establish that cross-party agreement in the end. We got there, and we managed to blend together all those different view points from the Welsh nationalists to the Conservatives who were completely opposed to devolution. I managed to do that - I brought together people around the table and we're taking forward a Bill to implement that. So as far as my work in Wales goes, it actually proves the points that I've been trying to make in the speech."
I raised the issue of "English Votes for English Laws". How could he lead a "one-nation" government if he couldn't vote on some parts of his own laws?
"With regard to English votes for English laws, English and Welsh votes for English and Welsh laws, let's not use today as an opportunity to get bogged down in that constitutional intricacy."
In other news, Jeremy Corbyn is still looking for a new shadow secretary of state for Wales, 48 hours after Nia Griffith resigned. I'm told no fewer that four Welsh MPs have turned down the job.