Stephen Crabb: No snap election if I am new Tory leader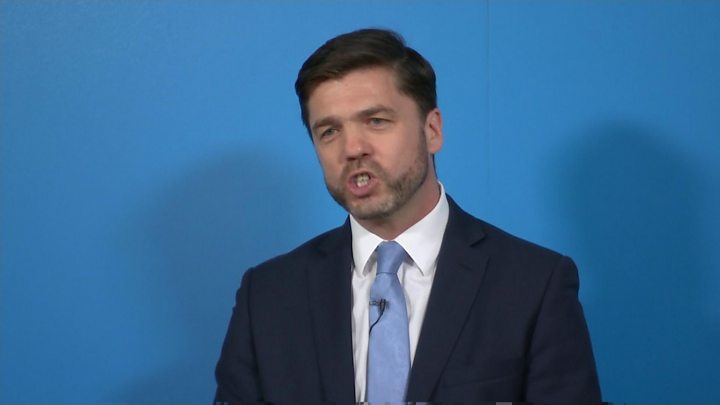 Stephen Crabb has launched his bid for the Tory leadership promising no snap election and no second EU referendum.
The Preseli Pembrokeshire MP and work and pensions secretary said stability was his aim, warning that fresh polls would simply create more uncertainty.
Mr Crabb rejected claims he was prejudiced against gay people, after his opposition to same-sex marriage.
The contest was triggered when Prime Minister David Cameron announced he would resign after the Brexit vote.
When asked at a news conference in London if he was prejudiced, Mr Crabb said "absolutely not", and added that he was "happy with the outcome" of the vote supporting gay marriage in the previous Parliament.
He said he was committed to creating a "tolerant, decent society" for people, regardless of "background or sexuality".
Mr Crabb, who campaigned for Britain to remain in the EU, said time needed to be taken to create unity at home before official notification of the UK's intention to leave the EU should be sent to Brussels.
The mechanism, known as Article 50, starts a strict two-year timetable for withdrawal.
To ensure the involvement of all parts of the UK in Brexit decision-making, Mr Crabb said he would create an advisory council bringing together the UK, Welsh, Scottish and Northern Ireland governments and the London mayor.
In addition to confronting economic and social divisions across the UK, Mr Crabb said building a strong economy, securing jobs, building houses and schools, and improving trade links would be on his agenda if he won the Conservative contest.
Mr Crabb said he proved in his previous job as Welsh secretary that he could deliver cross-party consensus, as over new proposals for devolution in the Wales Bill.
"We managed to blend together all those different view points from the Welsh nationalists to the Conservatives who were completely opposed to devolution," he said.
"I managed to do that - I brought people together around the table."
Mr Crabb said current Business Secretary Sajid Javid would be his chancellor of the exchequer. No snap election if I am PM says Crabb
Mr Javid said Mr Crabb had enormous integrity, grit, compassion and determination.
"Like me, he is someone that has grown up understanding the great opportunities the United Kingdom has to offer all of its citizens," he said.
Mr Crabb's backers also include current Welsh Secretary and Vale of Glamorgan MP Alun Cairns.
Cardiff North Tory MP Craig Williams said he would support Mr Crabb if he stood because he was the "embodiment of one nation Conservatism".
"Given his background, experience and qualifications, I believe he is the right man to bring the country together after what has been a divisive period."
Nominations for the contest will open on Wednesday evening, with candidates having until noon on Thursday to come forward.
Boris Johnson is reported to have won the support of 100 Tory MPs in his bid to become PM, while Home Secretary Theresa May is also expected to seek the leadership.
Other possible contenders include England's Education Secretary Nicky Morgan, and Health Secretary Jeremy Hunt.
Analysis: BBC Wales Parliamentary correspondent David Cornock
Stephen Crabb is the dark horse in this race but he knows that the history of Conservative leadership elections tells us that outsiders often win.
Some MPs believe the contest has come too soon for him, that he lacks the experience needed to negotiate Britain's exit from the EU.
His supporters will make much of his relatively modest background - comprehensive school rather than Eton. Welsh, although born in Scotland, he'll argue he is the man to keep the UK together.
And despite campaigning for Britain to remain in the EU, he says he has a clear plan for Brexit that will see immigration policy ultimately decided in Britain.
But his first big battle will be to be among the two candidates that go forward to party members - he will need to beat either of the two front runners Boris Johnson or Theresa May to enter that final run-off.