Devolve more benefits to Wales - Bevan Foundation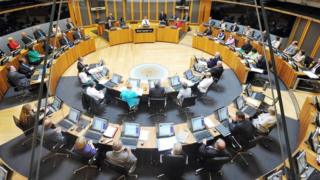 Some working-age benefits should be devolved so they "fit better with the needs of Wales", a think-tank has said.
The Bevan Foundation believes the assembly should have control over housing, unemployment and job seekers' benefits for under-25s.
It said control over major benefits should remain with the UK government.
MPs are discussing the Wales Bill, which would give the assembly more powers, but there are no plans to devolve more benefits.
The think-tank looked at welfare spending and concluded giving responsibility for these benefits would not undermine the "so-called social union" with the rest of the UK and would not bring too great a risk to the assembly's finances.
It believes the assembly should have "a strong say" in how the £1bn housing benefit bill is used because of its importance to this devolved area.