Former AMs paid £825,000 for 'resettlement'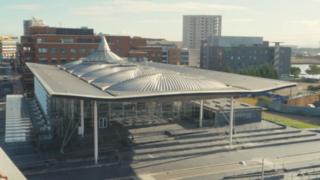 Eighteen assembly members who departed at May's election have shared £825,000 from a "resettlement" scheme.
The largest individual sum was £64,878, paid to former Economy Minister Edwina Hart, a cabinet minister since 1999.
Ex-Plaid Cymru AM Rhodri Glyn Thomas received £64,552, Labour's Janice Gregory £60,988 and Plaid Cymru's Jocelyn Davies £60,987.
The amounts paid to AMs elected before 2011 depend on their age, length of service and what positions they held.
BBC Wales obtained the figures using the Freedom of Information Act.
An Independent Remuneration Board sets out the process by which the resettlement grant is calculated.
In 2011, the board revised the way the grant is calculated, so pay arrangements are different for members elected before and after this date.
Four members were therefore not entitled to a grant - Labour's Gwyn Price and Keith Davies because they stood down voluntarily, and Conservatives Janet Haworth and Dr Altaf Hussain because they did not complete a full year's service.
For all payments made to members, the first £30,000 of the payment is exempt from tax.