Senior Welsh Tory warns against early election talk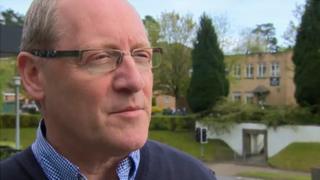 It is premature to talk about an early general election in the aftermath of the Brexit vote, a senior Welsh Conservative has said.
Party board member and Welsh Tory chairman Jonathan Evans said: "Let's face the enormity of where we are."
He told BBC Wales any poll should only occur once a process to decide the UK's relationship with the EU was set up.
There have been calls for an election soon after a new Tory leader becomes prime minister this autumn.
Welsh Conservative leader Andrew RT Davies has said there is no need for an early election.
David Cameron, who campaigned to remain in the EU, announced he was resigning as prime minister and Conservative leader after the UK voted by 52% to 48% to leave the EU.
Under legislation passed under the previous Conservative-Liberal Democrat UK government the next general election is not due to take place until May 2020.
Speaking on the Radio Wales Good Morning Wales programme Mr Evans said: "We have a Fixed-term Parliaments Act and I think that people ought to be a bit cautious about talking about an early general election.
"Let's face the enormity of where we are.
"We don't really know what our future is currently going to be."
The nature of the UK's new relationship with the European Union is expected to be central to the race to succeed Mr Cameron.
Mr Evans said: "I'm of the view that if there is going to be a general election it is very, very much better that we have that once the process of what our future is going to be is set up by the parties."