EU Referendum: 'Only the brave or drunk call this one'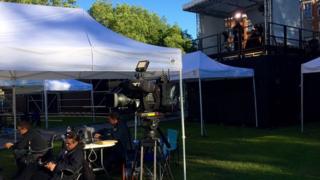 If you want to know how big this is, count the gazebos.
The portable tents, and some less portable television studios, have taken over the patch of grass, opposite the Houses of Parliament, known as Abingdon or College Green.
This is where the media gather for events such as Budgets or state openings but never before - in my memory - on this scale.
The "frenetic" campaigning, with its claim, counter-claim and 'misleading' statistics, is almost over, with the polls suggesting a close result. BBC Political Editor Laura Kuenssberg tweeted that only the brave or the drunk would predict the outcome on the basis of recent polling data.
'Difficult'
As a sober coward, I won't go there but there is still time to reflect on what Work and Pensions Secretary Stephen Crabb - who backs 'Remain' - describes as "a difficult campaign".
A week after talking to the 'Leave' campaign's Boris Johnson, I spoke to the Preseli Pembrokeshire MP, who told me: "It's been difficult to argue the case when the issues are so complicated. One of the things that people say to me up and down the country when I've been out campaigning is 'We want more facts, we want more facts, it's just too complicated' and the question we're putting to the country is a difficult one."
There is always the Reality Check section of the BBC website for those who feel short of facts or who want to check the claims and counter-claims.
Stephen Crabb accepts "there are a lot of people who don't believe the word of politicians" - one reason why the 'Remain' campaign have suggested voters listen to their employers (although there are of course employers who favour Brexit).
'Project Fear'
But he rejected criticism of a campaign in which the 'Remain' side has often been accused of scaremongering.
"I don't accept that there's been a project fear campaign," he said. "What there has been is an attempt to explain facts to the British public. We have a duty as a government to do that, we promised we would when we passed the legislation to bring forward the referendum in the first place. But when you try to attach specific numbers to possible outcomes then you do open yourselves up to the risk of criticism that you are scaremongering." because you are placing these
The campaign may almost be over, but the result - either way - will have profound short-term and long-term consequences. If Britain votes for Brexit, will David Cameron resign?
"No, the prime minister wasn't elected with a mandate just to do a referendum; he was elected with a mandate to form a government, a majority government and to see that government out after five years and that's what he's committed to doing.
"There'll be an important job, a really vital job to be done in negotiating Britain's exit from the European Union if the vote goes that way on Thursday. I think he'll have the support of the vast majority of my colleagues, and probably across the House as well, for him to do that, but that's not the outcome we're campaigning for."
I'll be back after the vote.