Severn crossings bridge tolls should be cut, MPs told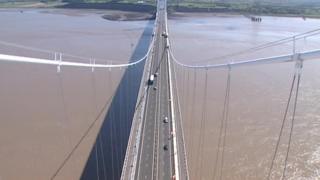 MPs have been told to cut the tolls on the Severn crossings at a public meeting in Monmouthshire.
The Welsh affairs committee called the meeting in Chepstow as part of an inquiry into the move of the bridges to public ownership.
Around 40 people attended the event, with broad support for scrapping the tolls in favour of tax funding.
Members of the Freight Transport Association also called for cuts in tolls, and easier passage through them.
One audience member said elevated sections of the motorway network in London, Birmingham and Rotherham did not attract tolling despite being costly to maintain, adding: "Why are we continuing to be punished?
"Profits have been made. It should come out of general taxation," he said.
A show of hands showed broad support for funding the bridges from general taxation rather than toll charges, although one member of the audience claimed there could be increased congestion if the tolls were scrapped.
Another show of hands indicated support from the audience for the building of an M4 relief road.
Ahead of the public meeting on Monday, committee chairman and Monmouth MP David Davies said: "As the Severn River Crossings near a return to public ownership we felt it was important to understand how those who used them on a daily basis felt about the service they provided.
"We will also be looking at the potential for improvements, such as installing an electronic pre-pay system, and how they could improve people's journeys."
Freight operators gave evidence to the committee before the floor was opened to questions from the public.
Ian Gallagher, head of policy for the Freight Transport Association in Wales and south west England, said there was scope for the tolls to be cut by more than the 50% announced by Chancellor George Osborne in the Budget in March.
Ian Jarman, vice chair of the Freight Council in Wales, urged the use of free-flow technology to get vehicles across the bridges more quickly, claiming the delays at the toll booths cost business more than the toll charges.
"The Severn Bridge is the most expensive toll bridge to cross with a HGV in the UK," he said, saying there were no discounts on offer unlike the Mersey, Tamar and Dartford crossings.