Do not let Tata walk away from its pensioners, say AMs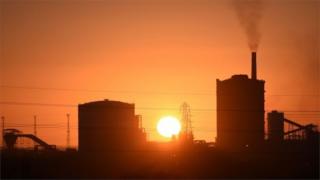 Assembly opposition parties have said Tata Steel must not be allowed to walk away from its pension responsibilities.
UK ministers are holding a consultation on the firm's pension scheme, including the option of cutting existing members' benefits to help deal with a deficit.
Plaid Cymru Shadow Economy Secretary Adam Price said that would create a "moral hazard".
He said it would set a precedent for other major international firms to follow.
This was particularly the case when the parent company had made substantial profits, Mr Price told AMs.
Tata Steel is looking to sell its loss-making UK business, including Britain's largest steel plant in Port Talbot.
The company has had seven expressions of interest, including a management buy-out option.
Referring to speculation that Tata may decide not to sell its UK operations, Mr Price said: "The way that Port Talbot was mismanaged by Tata Steel Europe at that level was a contributory factor in the severity to the problems it faced.
"Surely handing back the keys to these same decision makers over the heads of local managers and workers is surely not something we in Wales should readily support when there are other better, locally owned alternatives?"
UKIP assembly group leader Neil Hamilton said Tata could afford to plug the gap in its pension scheme.
"It just cannot be allowed to walk away from their responsibilities to the steelworkers in Port Talbot," he said.
Conservative AM Suzy Davies said the firm had been "disingenuous" in the way it had behaved in recent months.
First Minister Carwyn Jones said Tata would need to give long-term commitments to the industry in Wales if it was to receive any government support in future.
A Tata Steel spokesman said: "The company and trustees strongly support changes to the law to allow the British Steel Pensions Scheme to pay modified benefits on a low risk basis possibly indefinitely.
"This is option three in the current Government consultation.
"Benefits to scheme members would be more generous than those provided by the payment protection fund for the vast majority of Scheme members."