EU referendum: 'Frustration' over Conservative clashes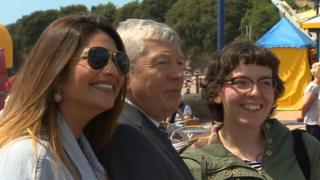 Remain campaigners feel frustrated the EU referendum debate sometimes appears to be like a fight between Conservative politicians, an ex-home secretary says.
Labour MP Alan Johnson, campaigning in Barry, said people "get annoyed when it looks like a Tory leadership contest".
Several Tory cabinet ministers and MPs want to leave but Prime Minister David Cameron and his allies want to stay.
Leave campaigner Ross England said Labour was struggling to persuade supporters to vote remain.
With three weeks to go until voters go to the polls, Tory politicians have continued to clash over the issue.
At the weekend former London mayor Boris Johnson and Justice Secretary Michael Gove suggested Mr Cameron had failed to meet a pledge to reduce immigration.
Remain campaigner Mr Johnson, who was at the seaside resort in the Vale of Glamorgan, told BBC Wales: "People do get a bit annoyed and frustrated when it looks like a Tory leadership contest, whereas it's the most profound political decision certainly in my lifetime, much more important than general elections and certainly more important than who is going to be the next Tory leader."
But Mr England, a former Conservative assembly candidate said: "I imagine Labour are having problems motivating their own supporters to come out and vote, because people understand that as part of the European Union we have no say about how many immigrants come to the UK and we have no say over immigration policies from Europe."
The leaders of the two campaigns in Wales have meanwhile been taking part in a special referendum edition of BBC Radio Wales' Jason Mohammad programme.
Geraint Talfan Davies, chairman of Wales Stronger In, said the economic case for Wales remaining in the EU was strong.
"In my view it's a no-brainer," he said.
"I think to actually be part of a market of 500 million people is clearly a sensible thing for the British economy, and particularly so for Wales (which) benefits from membership of the European Union more than any other part of the UK."
But former Welsh Secretary David Jones, who runs the official Vote Leave campaign in Wales, said: "More and more people are expressing their very great concern over the direction that Europe is taking, the cost, the issue of security and most importantly the question of sovereignty, which is, of course, a simple one of democracy - do we want to be governed by the people we elect, or do we want to be governed by unelected people, unelected bureaucrats in Brussels?"