Revised Wales Bill could be introduced 'before summer'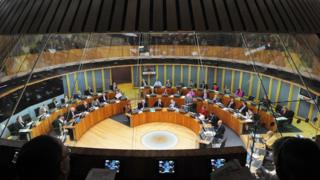 Revised plans for the future of Welsh devolution could be presented to Parliament before the summer break, the Wales Office minister has said.
Guto Bebb said he was "very confident" the revised Wales Bill could be introduced "before the summer recess".
The legislation was previously announced in May 2015's Queen's Speech.
Bu the draft version, published in October, attracted widespread criticism that it could actually reduce the Welsh Assembly's powers.
Speaking to The Wales Report, Mr Bebb, MP for Aberconwy, said the Bill had not met "universal acclaim" but the UK government had listened to concerns.
"Any delay that we now have is basically waiting for the new Welsh Government to indicate whether they're happy with the concessions and the changes that have been made," he added.
The Wales Bill aims to grant the assembly new powers over energy, transport and elections.
It is an attempt to re-write how Wales is governed by defining what is under the control of Westminster, known as the reserved powers model.
The current system defines what is under the assembly's control, with everything else assumed to lie with the UK government.
The Queen opened the new parliamentary session on Wednesday, saying the UK government wanted to "establish a strong and lasting devolution settlement in Wales".