NHS 'verging on crisis', say Tories ahead of election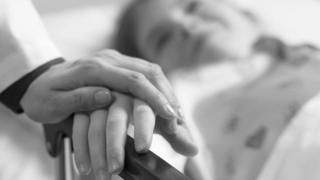 Opposition parties have attacked Labour's record on health ahead of Thursday's assembly elections.
The leader of the Welsh Conservatives Andrew RT Davies said public services were "verging on crisis".
First Minister Carwyn Jones said the NHS was "on the ballot paper" at the election, but has defended his handling of the service despite criticism over waiting times.
Labour currently holds 30 seats in the 60-member assembly.
The Conservatives have 14, Plaid Cymru 11 and the Liberal Democrats five.
Mr Davies is beginning a tour of Wales on Tuesday, and said: "Wales is in desperate need of a change and communities are crying out for a new approach.
"The economy needs to be reinvigorated, and our public services are verging on crisis - a crisis of Carwyn Jones' making."
Speaking in Wrexham on Monday, Mr Jones repeated his suggestion that the NHS was "on the ballot paper" on Thursday.
He said: "We know the health service has faced some challenges, in north Wales in particular.
"The last five years of Tory austerity have been difficult ones and the demand for healthcare is rising all the time.
"But, we have an NHS in Wales - and an NHS workforce - of which we can be proud."
There had been "real improvements" since 2011, he said, including a larger medical workforce and improved cancer survival rates.
'Social contract'
Plaid Cymru are focusing on a pledge to scrap care charges for the elderly and dementia sufferers.
The party wants to scrap both fees over a 10-year period, at a cost of £226m.
Plaid's Elin Jones said: "Our plans will save people up to £30,000 every year. It is a significant commitment, but it is a commitment that we believe is important to make.
"Plaid Cymru will restore the values of the NHS, making care free at the point of need for everyone who needs it.
"This is about keeping the social contract with people who have worked all through their lives, have paid their taxes and who now need care."
Kirsty Williams, the leader of the Welsh Liberal Democrats, said: "People don't expect miracles from our NHS, but they do expect staff to have the time to treat patients with the dignity they deserve.
"17 years of Labour has meant nurses in Wales have more patients each to care for than in any other part of the UK. That must change - a vote for the Welsh Liberal Democrats is a vote for dignified care."
The party is pledging to ensure a minimum number of nurses on mental health and maternity wards.
A private members' bill introduced by Ms Williams in the last assembly has already seen the policy adopted on general wards.
UKIP, who are aiming to win their first seats in the Senedd, are due to be joined on the campaign by party leader Nigel Farage in Newport.