Farage 'less than impressed' with UKIP race row candidate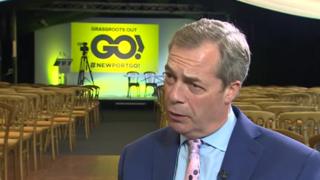 Nigel Farage has distanced himself from a UKIP assembly candidate who blamed immigrants from Eastern Europe for a rubbish problem in part of Cardiff.
The party leader said Gareth Bennett was not the sort of person UKIP would be "proud" to have as an assembly member after the election on 5 May.
Mr Bennett has been chosen as UKIP's lead candidate in the south Wales central region.
Mr Farage said he was "less than impressed" by Mr Bennett's comments.
Speaking in Newport, Mr Farage told BBC Wales he was not involved in candidate selection, but added: "All I can say is the utterances that I've seen from that individual - he doesn't look to me, at the moment, to be the kind of person we'd be proud of in a few weeks' time."
He said: "As leader I have nothing to do with it [selecting candidates], but I'm less than impressed on what I've seen."
In a recent interview with WalesOnline, Mr Bennett referred to the City Road area of Cardiff, saying: "That's probably where we have a multiplicity, a melting pot of different races all getting on each other's nerves, I think, and certainly causing lots of problems because of different cultural attitudes, very visible problems of rubbish, which is being left on the street uncollected all the time."