The Welsh Assembly elections: Everything you need to know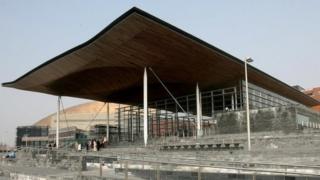 On Thursday, after a month of campaigning, polling stations for the Welsh Assembly election will finally open.
Voters will pick who makes up Wales' devolved legislature, which has a growing set of powers over how our country is run.
In this last minute guide to the election, we explain the ins and outs of how election night will work.
We explain when the vote takes place, how it works, what happens on the night, what happens next and how you can follow the election with BBC online, TV and radio.
You can find where the parties stand on different issues in our manifesto guide.
---
When is the poll and where is my polling station?
Polling stations across Wales will be open from 07:00 BST to 22:00.
If you choose to vote in person, you will have to attend a polling station within those times.
Everyone who has registered to vote will be sent a polling card. If you have forgotten to register, it is too late.
Details of which station to go to is included on the card, which is sent to the address where you registered.
---
How do I vote?
Voters are given two ballot papers for the assembly election.
One ballot allows you to vote for a candidate in your constituency. You vote for a party for your region on a separate ballot paper.
The party vote can be for the same party as the person that you voted for in your constituency, or it can be a different one.
The vote on the second ballot paper helps determine the result of the election of regional AMs, which is explained below.
---
How many AMs are there? Who am I voting for?
There are 60 AMs split into two types - 40 who cover constituencies and 20 who cover regions.
Constituency AMs serve a smaller area than those elected to serve regions. This is currently exactly the same as the area served by Westminster MPs.
Parties nominate lists of candidates to put to the electorate in the regions. Four AMs in each of the five regions will be elected.
The regions are:
South Wales East - including the constituencies of Newport West, Newport East, Blaenau Gwent, Torfaen, Monmouth, Merthyr Tydfil and Rhymney, Caerphilly and Islwyn
South Wales Central - including the Cardiff seats, Vale of Glamorgan, Cynon Valley, Rhondda and Pontypridd
South Wales West - including Aberavon, Gower, Neath, Bridgend, Ogmore, Swansea East and Swansea West
North Wales - including Aberconwy, Alyn and Deeside, Arfon, Clwyd South, Clwyd West, Delyn, Vale of Clwyd, Wrexham and Ynys Mon
Mid and West Wales - including Brecon and Radnorshire, Carmarthenshire, Pembrokeshire, Ceredigion, Montgomeryshire and Dwyfor Meirionnydd
You can see who is standing in the constituencies and regions here.
---
How do AMs get elected?
Counts take place at locations across Wales overnight.
Unlike Westminster, the assembly uses the "additional member system". This was implemented to make the assembly more proportional and means the two different types of AMs are elected in two different ways.
The first past the post principle is used to elect constituency AMs - where the candidate with the largest number of votes gets the seat.
For regional seats it is more complicated.
In simple terms, regional AMs' seats are dished out to the different parties according to:
Their share of the vote on the party list ballot
How many constituency AMs parties have won in the area that night
So if one party gets a large vote in a region but already has lots of AMs elected there, they will not necessarily pick up any regional seats.
Party lists are nominated in the order that candidates will be elected, if they are successful.
For example, if Joe Bloggs is number one in the list for party X and Bob Jones is number two, but party X only gets one seat in a region, only Joe Bloggs is elected.
If they get two, Bob Jones gets a seat too.
---
When do we find out who the next first minister will be?
The Welsh Government is formed from whatever party or group of parties can get enough support in the Senedd to elect a first minister.
If there is a clear majority for one party or another, that will be obvious by 6 May.
If there is not, then the largest party may try to form a minority government.
That could be possible if the other parties do not try to stop that from happening and form their own coalition, as happened in the last assembly term when Labour went alone.
Parties may also try to negotiate a deal to work together, but that could take some time after the election result to emerge.
---
What does the assembly do?
The assembly has changed a lot since it was established in 1999.
Apart from the move from Ty Hywel to the Senedd building just next door, it has gained powers to make its own laws.
AMs can make laws within a set list of 20 areas. In summary the major ones are:
Economic development
Education and training
Environment
Health and health services
Highways and transport
Local government
Town and country planning
Water and flood defence
Welsh language
The full list can be found here.
As well as passing laws, AMs scrutinise the government of the day and pass the government's budget, which decides how much money will be spent on different services.
---
What's the difference between the Welsh Government and the National Assembly for Wales?
There is often confusion between what the Welsh Government does and what the assembly does.
It stems from the beginnings of the institution in 1999 when the assembly acted as a government.
That all changed in 2006 when the governmental functions of the assembly were spun off into a new body, leaving the assembly more like a traditional legislature.
The Welsh Government runs the Welsh public services it is responsible for - what is known in political jargon as the executive armof government. It is based at Cathays Park in Cardiff.
The ultimate bosses of that institution are the Welsh ministers - led by the first minister.
He or she picks a cabinet of ministers which are responsible for the departments of Welsh Government that are staffed by civil servants.
Ministers make decisions - in so far as they are allowed to by law - on how those services are run.
In the assembly itself, ministers table laws and regulations and try to get their budget for the year through the assembly.
The services the government is responsible for are the same as the areas of law that the assembly oversees.
---
How can I follow the election results on the night?
BBC TV, radio and online will be providing full coverage through the night and into Friday.
Bethan Rhys Roberts and BBC Wales political editor Nick Servini will present BBC One Wales' results programme on 5 May and 6 May, from 22:30 into the next morning.
Meanwhile, Dewi Llwyd and BBC Wales Welsh Affairs Editor Vaughan Roderick will host proceedings on S4C from 22:00. Both the English and Welsh programmes will be simulcast on BBC Radio Wales and BBC Radio Cymru respectively.
Our website and mobile apps will provide a full live results service through the night and into the next day.
There is a full guide to our coverage here.