Resignation ultimatum over UKIP race row candidate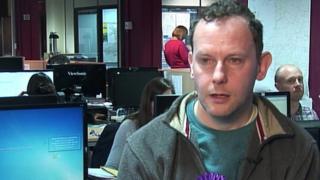 A UKIP election candidate has said he will stand down unless action is taken against a colleague who linked litter problems in Cardiff to immigration.
The party's national executive is investigating remarks by Gareth Bennett, UKIP's lead assembly candidate for the South Wales Central region.
Mr Bennett has said he has "complete faith" the party will support him.
But Llyr Powell, standing in Neath and South Wales West, said he will resign unless Mr Bennett is removed.
"I don't want him there at all with the views he has expressed," Mr Powell told BBC Wales.
"I feel that lots of other people are uncomfortable with him being still there - he doesn't represent my views and opinions and he doesn't represent anything that I believe in.
"He's lowered the tone and embarrassed the party," he said.
Mr Powell added: "He targeted a group of people in Cardiff without any evidence."
UKIP's national executive is due to meet next on 4 April.