UKIP race row candidate has 'faith' party will back him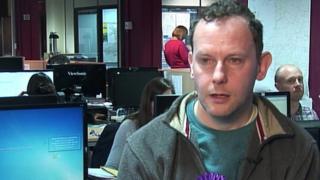 A UKIP assembly election candidate who linked rubbish problems in Cardiff to immigration has said he has "complete faith" the party will support him.
Gareth Bennett is UKIP's lead candidate for the South Wales Central region.
Earlier in March, party immigration spokesman Steven Woolfe said UKIP's ruling National Executive Committee (NEC) was considering deselecting Mr Bennett.
UKIP has not yet confirmed whether or not it will take action.
'Many friends'
In a statement Gareth Bennett said any move to deselect him would be a "slap in the face for party members" who voted for him to be a candidate.
"If the small clique clustered around the national leadership want to continue to oppose me, then let battle commence," he said.
"There will only be one winner in this contest.
"I have complete faith that the NEC will continue to support me.
"I am informed by my many friends and allies there that there have been no official moves made thus far to question my candidacy."
The NEC's next scheduled meeting is on 4 April.
On 17 March Mr Bennett told WalesOnline: "I think in Cardiff the starkest area which has changed completely is City Road.
"That's probably where we have a multiplicity, a melting pot of different races all getting on each other's nerves, I think, and certainly causing lots of problems because of different cultural attitudes, very visible problems of rubbish which is being left on the street uncollected all the time."
Mr Bennett was then asked on BBC's Daily Politics what evidence he had for his claim.
He said: "I haven't got any firm evidence to give you now."