Wales Green Party pledges to create 'fairer economy'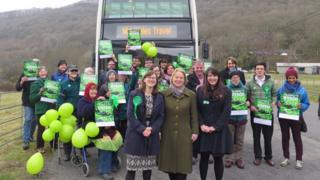 A "fairer economy and vibrant communities" have been pledged by the Wales Green Party, as it launched its assembly election campaign.
A commitment that no Welsh student studying in Wales would pay tuition fees was among the policies unveiled by leader Alice Hooker-Stroud.
She said it was time to challenge the "stale government in Wales".
The party is hoping to win a seat in the assembly for the first time in May, having won 3.4% of the vote in 2011.
Ms Hooker-Stroud claimed the party has "never been closer to getting green voices in the assembly".
"Across the UK and further afield we see the positive impacts that the Green Party have made in councils, parliaments and assemblies," she said.
"It's time to challenge this stale government in Wales and shake up the Senedd."
Key policies unveiled by the party:
Protect frontline public services
Generate energy, income and jobs with community and publically owned renewables
End the programme of school closures
Prioritise no tuition fees for Welsh students studying in Wales
Build 12,000 new houses per year to carbon-neutral standards
Increase the amount of social housing
Enact a 10-year plan to insulate homes and make them more energy efficient
Put a greater emphasis on public health
Keep the NHS public
Ms Hooker-Stroud said it was time for new voices and new ideas in the assembly.
"We are launching our campaign on this bus to send out a loud message: no more cuts to public services," she said.
"From public transport to our healthcare, to our education, it's time to put the public first. We have the means to create a Wales we want to see - right here, right now.
"Voting Green in May means shaking things up, injecting new energy into the Senedd and starting to build real change for a better future for Wales."