Concerns over cuts to environmental health budgets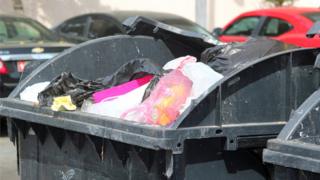 Budget cuts could seriously impact on vulnerable people's well-being, the Chartered Institute of Environmental Health Wales has said.
Director Julie Barratt criticised a planned £300,000 cut in Pembrokeshire, saying councils were "salami slicing" environmental health budgets.
Pembrokeshire said increased regulatory burdens made it "very difficult".
The Welsh Government said authorities were "responsible for their own decisions".
'Compromise health'
Environmental health services include food safety and standards, communicable disease control, health and safety, licensing, commercial pollution control and environmental monitoring.
It also covers port health, dog control, pest control and public health.
In a letter, obtained by BBC Radio Cymru's Post Cyntaf programme, Ms Barratt warned Pembrokeshire the "proposed budget cuts have the potential to seriously compromise the health and well-being of the most vulnerable members of Pembrokeshire now and also for years to come."
She said it could "seriously compromise" well-being and described the reduction as "catastrophic".
Ms Barratt told BBC Wales the pattern was being repeated by local authorities across Wales.
Pembrokeshire said the regulatory burden on local authorities was increasing, with no funding for the extra responsibilities.
'No money'
Huw George, cabinet member for environmental services, said: "With no money following, it makes it very difficult. We're trying to make sure the service is of quality and change the way we do things."
The Welsh Government said it had protected funding for local government in Wales over the course of the assembly term.
"Local Authorities in Wales acknowledged that this was a better settlement than expected," a spokesperson added.
"Local Authorities are responsible for their own decisions on the use of the funding available to them, which includes locally-generated revenue as well as Welsh Government funding."