Welsh assembly election: Labour 'not jaded', says Jones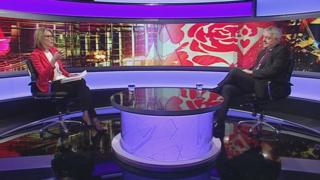 Welsh Labour is "not jaded or complacent" after four terms in government, the first minister has said.
Carwyn Jones said his party had delivered its promises despite "record breaking" cuts from Westminster.
"We've seen Aston Martin coming to Wales... unemployment lower than London, Scotland and Northern Ireland", he told The Wales Report.
He added he was "proud" of his party's achievements.
Attacking his political opponents, he said: "Some people will say: 'well its another election, people need to look at a change'.
"People change their car, but you wouldn't change your car for an old banger, which is what the other parties offer."
"We've got the drive, got the energy, got the momentum, and that will continue past May."
'Wales gets fudge'
Speaking about the unveiling of the ealternative draft Wales Bill earlier this week, the Mr Jones said: "The UK government had the chance, put a bill on the table [but] it was so flawed that nobody supported it, literally.
"Above all else Scotland gets certainty, Wales gets fudge. And we don't want that in the future. Why on earth should Wales be put in a worse position than Scotland when it comes to people understanding exactly what the national assembly can do?"