Asylum hostel contractor needs better scrutiny, MP says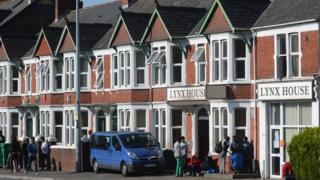 An MP concerned about overcrowding at an asylum seekers' hostel in Cardiff has called for tighter scrutiny of private firms spending public money.
Lynx House was also at the centre of a row over residents having to wear red wristbands to get meals, later relaxed.
Labour MP Jo Stevens said contractor Clearsprings could not be examined under freedom of information laws.
Cabinet minister Matthew Hancock said he could not promise to extend the law to cover private businesses.
Ms Stevens said more than £100bn worth of UK public services were being run by contractors, and claimed the Clearsprings contract to run asylum seeker accommodation in Wales was worth £75m.
The Cardiff Central MP told the House of Commons on Wednesday such companies ought to be subject to the same level of scrutiny as public sector organisations under Freedom of Information (FoI) legislation.
She told MPs that Clearsprings were "failing the taxpayer and the thousands of vulnerable asylum seekers living in that accommodation, safe from the scrutiny of the Act".
In reply, Mr Hancock said he could not give any assurances that the law would be extended to cover private contractors, saying a committee examining the matter had not formally recommended it.
But he added: "FoI can be used to scrutinise those who set the contracts up that businesses large and small then supply into."