Policing devolution 'not UK Labour party policy', says Andy Burnham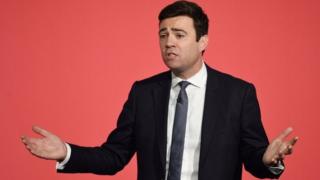 Devolving control of the police is not party policy in Westminster, Labour's shadow home secretary has said, despite a call from Carwyn Jones to do so.
On Monday, the first minister called for the eventual devolution of policing powers.
But Andy Burnham said policing powers "was not yet the view of the party at a UK level", but Mr Jones later insisted that "it is party policy... end of".
Plaid Cymru said it was "deeply embarrassing" for Labour.
It comes after Mr Jones announced his alternative draft Wales Bill, proposing that policing and the criminal justice system would be devolved after March 2026.
'Serious consideration'
Speaking in a House of Commons debate, Mr Burnham said devolving policing powers was an "interesting proposal".
"But it's the view of the Labour Party in Wales. It's not yet the view of the party at a UK level but we will be giving it serious consideration," he added.
Labour's manifesto for last year's general election included a pledge to give the Welsh government policing powers.
Mr Jones, speaking to Radio Wales, insisted that devolving policing was UK Labour policy.
"It was in our manifesto in May and it has not changed," he added.
At his press conference earlier on Monday, Mr Jones denied that the lead-in time was a compromise to MPs who would not agree with devolving justice and policing.
"I think it's reasonable. When you have a major change like this... then clearly there needs to be a lot of preparatory work done to get it right," he said.
Plaid MP Jonathan Edwards said: "This is yet another deeply embarrassing episode for the Labour first minister who has yet again been completely undermined by his colleagues in Westminster."