North Wales PCC Winston Roddick to stand down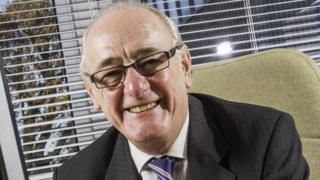 North Wales police and crime commissioner Winston Roddick has announced he will not seek re-election.
Independent PCC Mr Roddick said he was "not getting any younger".
His deputy Julian Sandham is expected to run for the post in polls on 5 May. David Taylor is running for Labour while Arfon Jones is standing for Plaid Cymru.
UKIP, the Lib Dems and the Tories have not yet announced their own candidates.
Mr Roddick said: "I have come to the decision to stand down gradually after considering it very carefully with my family and others over the past two or three months."
He said his main reason for not-seeking re-election is so he can see more of his grandchildren.
He added: "I'm not getting any younger and the burdens of this job are going to increase and therefore I think I've done my bit.
"It's now the turn of somebody else. "