Criminal record checks funding for charities extended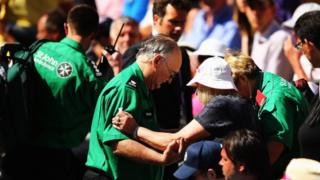 Charities facing extra costs to pay for background checks on volunteers have been given a four-month reprieve.
Free checks by the Wales Council for Voluntary Action (WCVA) were due to end on 31 May.
The Welsh government wants to prioritise spending on training clubs and charities to spot people who pose a risk to children and vulnerable adults.
But the free checks will now be available until 30 September after an outcry from charities about the change.
Checks via the UK government's Disclosure and Barring Service - previously known as Criminal Records Bureau (CRB) checks - are free of charge for volunteers and organisations, and chargeable for paid employees.
But they have to be applied for through a registered body, which may charge an administration fee for the service.
WCVA, which has been funded by the Welsh government to do the work free of charge for charities in Wales since 2003, had written to charities explaining that its service would end on 31 May.
Keith Dunn, chief executive of St John Ambulance Wales, told BBC Wales in February his charity faced extra costs of £5,000 a year, claiming another organisation could charge administration fees of £5-£10 a time to carry out the checks.
The Welsh Conservatives' Shadow Communities Minister Mark Isherwood AM welcomed news of the reprieve.
"This was a short-sighted spending decision from Labour Ministers, and this U-turn will offer relief to many third sector organisations and the critical services they deliver," he said.
"We will continue to champion how a future Welsh government should be ready to embrace the support, expertise and services which the third sector offers our communities, and this funding stream should be safeguarded in the long term to help ensure just that."
A Welsh government spokeswoman denied there had been any "U-turn" by Communities Minister Lesley Griffiths.
"To be clear, there has been no U-turn.
"While more than six months notice was given to WCVA of this change, we are aware concerns remain within the sector," she said.
"The minister has therefore agreed in principle to extend the existing service to 30 September 2016, in order to allow the third sector more time to identify alternative arrangements."