Hospital ratings plan by Welsh Conservatives to 'boost choice'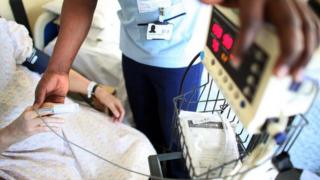 Hospitals could be ranked using a new one-to-five ratings system with scores on public display, under a Welsh Tory plan to boost patient choice.
Cleanliness, infection rates, access to treatment and respect shown to patients would be the areas rated.
The independent watchdog Healthcare Inspectorate Wales (HIW) would be funded to do the job, the Tories said.
The idea is based on the display of food hygiene ratings in restaurants and cafes - mandatory in Wales since 2013.
An NHS Safety Bill would also be introduced if the Conservatives win power in May's assembly elections.
And a patients' choice charter is proposed to allow people the right to choose their GP and hospital.
'Empower' patients
Shadow Health Minister Darren Millar said: "Years of underfunding by Welsh Labour has knocked patient confidence in our NHS and we now need radical action to restore it.
"By legislating to introduce a scores-on-the-doors hospital ratings system and greater patient choice, a Welsh Conservative government would ensure that patients have more information than ever before about their local hospital; and empower them to choose which hospital they are referred to for treatment.
"We want to see an NHS underpinned by patient responsibility and choice - supported by record levels of funding and investment."
The Conservatives are the second largest party in the Senedd, with 14 of the 60 seats.
The party's Welsh conference begins in Llangollen on Friday.