Andrew RT Davies insists aid cash would be available after EU exit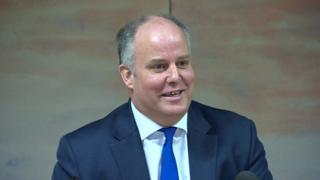 Wales would still get economic aid for its poorest areas even if Britain votes to leave the European Union, Welsh Tory leader Andrew RT Davies has said.
The EU is providing £1.8bn to Wales between 2014-2020 to help economic growth.
Last week, David Cameron said he "can't be certain" the UK government would spend the same if we left the EU.
But Mr Davies, who supports Brexit, said he could "guarantee" the money would still be available.
Speaking on the Wales Report with Huw Edwards, Mr Davies said: "I can guarantee that a UK government would make sure that money would be re-distributed around the regions of the UK, otherwise it would be failing in its remit to deliver help and support to the nation it is elected to govern.
"Frankly we cannot continue with operation fear, driving people in to the ballot box because you are scaring them into voting one way."
Support
A referendum will be held on 23 June on whether Britain should leave the EU, or remain a member on new terms negotiated by Mr Cameron.
Economic aid is likely to feature heavily in the campaign.
Because West Wales and the Valleys' economic output is much lower than the EU average, Wales receives far more in so-called "structural funds" than Scotland or Northern Ireland.
Supporters say the money helps bring in investment in communities which may otherwise see low levels of government support.
But opponents say the money is effectively re-cycled from Britain's annual contribution to the EU budget, and would be better administered direct from London or Cardiff.
Mr Davies' comments come after the prime minister, asked on BBC Wales Today if he could make up the shortfall in EU aid for places like Wales after an exit, said: "I think you can't be certain about that.
"We know, between 2014 and 2020, in the European budget is £1.8bn for Wales, vital money for economic development and important projects."
He said: "In those circumstances, of course, the United Kingdom government would always want to do everything it could for all the different parts of the United Kingdom, but you can't guarantee these things, because we might be in quite difficult economic circumstances."
Mr Cameron, asked about Mr Davies's decision to campaign on the opposite side of the referendum campaign, said it was "always disappointing when someone doesn't back your view".