Wales Bill changes: No talks yet, says Carwyn Jones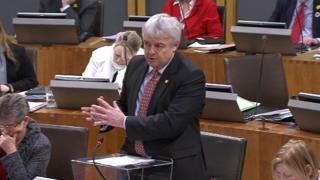 First Minister Carwyn Jones has said he has had no discussions with the Welsh secretary about the latter's plans to rethink his devolution proposals.
Stephen Crabb said he would shorten the list of powers kept at Westminster, cut red tape over new laws, and better reflect Wales in the legal system.
The draft Wales Bill had been widely criticised for being over-complex, and keeping too much power back.
The updated bill will now be delayed until after the May assembly election.
Mr Jones told AMs on Tuesday: "I know no more about the secretary of state's intentions than has appeared in the press.
"The Welsh government was not notified beforehand of the content of the secretary of state's announcement, nor has there been any follow-up communication as to what might happen next.
"If there is to be any real progress with this bill, it must be a bill made with Wales, not for Wales."
The first minister said he had made suggestions of how to shorten the list of powers to be kept by Westminster, but there had been no direct talks with Mr Crabb.
"My officials held 15 meetings with UK government officials between October and January and have provided a full and comprehensive view on each of the reservations to them," said Mr Jones.
"Again, no response."
On Monday, the first minister had responded to Mr Crabb's announcement of a pause to make "substantial changes" to the bill by saying it was an "avoidable delay to clear up an avoidable mess".
A Wales Office spokesman said: "The Secretary of State has regular, wide-ranging discussions with the First Minister and met him only last week to discuss the Wales Bill and the direction of travel.
"None of the details that were announced on Monday should have come as any great surprise to the First Minister and Welsh Government."