Plaid Cymru 'preparing to govern', says Leanne Wood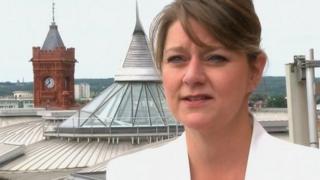 Plaid Cymru leader Leanne Wood has said her party are preparing to govern for the next ten years.
Ms Wood told BBC's The Wales Report programme she wanted her party to take charge - but not in a coalition with Labour.
"I want a Plaid government and that might be a minority government," she added.
She said she had a "programme for transformational change over two terms of government".
"My plan is a long-term one and building up a nation is not an overnight step. I am not intending to go away and I am in it for the long run", she added.
Ms Wood defended her decision to stand in both a constituency seat and regional list seat in the 5 May elections.
She said: "The reason I am standing in two areas is because that's the system and that what the systems allows."
Plaid Cymru, she said, had the policies to transform health, education and the economy in Wales.
The Wales Report, BBC1 Wales, 22:40 GMT, Wednesday