Votes at 16 and e-voting call by Electoral Reform Society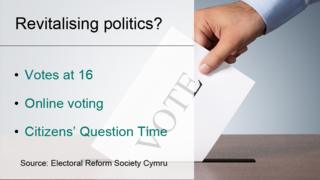 Votes at 16, online voting and a monthly citizens' question time could breath new life into Welsh politics, campaigners have claimed.
The Electoral Reform Society Cymru challenged the political parties to "revitalise" democracy as it launched its own assembly election manifesto.
Director Steve Brooks said they could make the assembly more engaging.
"Voters feel increasingly disconnected from politics," he said. "It's time to bring democracy closer to the people."
A citizens' committee to scrutinise ministers and electing local councillors via proportional representation could also help, according to the the society's manifesto.
"As the assembly gains new powers over elections, there's a real opportunity for parties and the next government to revitalise Welsh democracy, and this manifesto lays out the way forward," said Mr Brooks.
"We hope all parties embrace the recommendations as crucial moves to change the way we do politics in Wales for the better.
"We've laid down the challenge - now's the chance to embrace this opportunity to make Wales a world-leader in democratic reform."