Confirmation hearings to 'shine a light on suitability'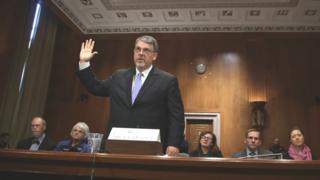 American-style "confirmation" hearings before Welsh government ministers and advisers take up their posts could help restore public trust in politicians, the Welsh Conservative leader has said.
Andrew RT Davies said having ministers take questions from AMs would "shine a light on their suitability to serve".
He said it would be symbolic, with AMs having no veto on appointments.
But it would give the public "a clearer sense of who holds these important positions of power", Mr Davies added.
Writing on the Institute of Welsh Affairs (IWA) website, the Welsh Tory leader said journalists often publish lists of special advisers "as though they've uncovered a guilty secret, tucked away in dark recesses of the Ministerial briefcase".
"Such mistrust linked to significant Government appointments is unfortunate - and it's something I'd want to change as First Minister of Wales."