S4C remit and scope review call by MP Davies to Osborne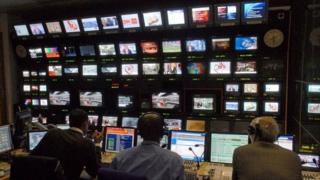 A senior Welsh MP has called on the chancellor to launch an independent review of S4C's "remit and scope".
David Davies, who chairs the Welsh Affairs committee, said it would allow for a "full and rigorous understanding" of the Welsh channel's funding needs.
S4C bosses called for a review to assess its role in the digital age when giving evidence to MPs on Monday.
In a letter to George Osborne, Mr Davies said the channel warned that funding cuts could impact on services.
The chancellor's Autumn Statement confirmed that S4C's grant from the UK government was being cut from £6.7m to £5m by 2020, although most of the channel's funding now comes from the BBC licence fee.
In January, David Cameron pledged during Prime Minister's Questions to meet "both the wording and the spirit of our manifesto promise to make sure this continues to be a very strong channel".
'World has changed'
The channel's chief executive Ian Jones told the Welsh Affairs Committee on Monday: "S4C's remit is still entrenched back in 1981 in statute, and it is to provide a television service predominantly through the medium of Welsh in peak time hours.
"The world has changed since 1981/82. Now there are hundreds of broadcasters and hundreds of other platforms."
Mr Jones said S4C had cut costs by closing down its HD service, cutting staff numbers from 220 to 130, and increasing repeats to "an extremely high level of 57%".
S4C Authority chair Huw Jones told MPs the channel performed an "important function" in Welsh life but needed a review, "bearing in mind that things change - technology changes, audiences change".
In his letter to the chancellor on Tuesday, Mr Davies said: "S4C Executives told us that further reduction in funding could significantly impact its services.
"As questions arise as to the Channel's capacity to provide high quality content on all platforms as broadcast technology develops, we ask that you consider conducting an independent review into the Channel's remit and scope."