New Welsh MEP on the way?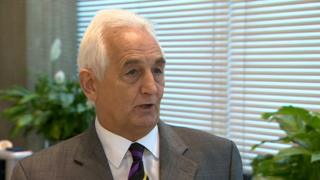 Guest blogger BBC Wales political reporter Paul Martin asks if Dave Rowlands could be Wales' next MEP.
It seems all but certain that the current UKIP MEP for Wales, Nathan Gill, will be stepping down soon in order to stand as an assembly candidate.
Electoral rules mean you can't be an MEP and stand for the assembly.
So, the MEP job moves to whoever was listed as the party's second candidate at the European election in May 2014.
Problem. That man is James Cole, but he resigned from UKIP last year, citing the way the party was being managed in Wales.
Mr Cole assures me has no regrets.
So, we move to number three on the list, Caroline Jones.
Another problem. Caroline Jones will, in all likelihood, also be standing at the assembly election.
Onto the fourth and final person listed by UKIP in Wales at the 2014 European election...
Step forward, Welsh party chair and stalwart Dave Rowlands.
Very much still a UKIP member, and - as far as I'm aware - not planning to stand at the assembly election.
UPDATE: I stand corrected. Dave Rowlands - like Caroline Jones - is in fact seeking assembly regional list selection.
As we have reported elsewhere, that process is taking a very long time to resolve itself.
But if it were to result in prime slots for Mr Gill, Ms Jones and Mr Rowlands, the question of who will be Wales's next MEP will become even more vexed.