Strong construction growth predicted to create 27,000 jobs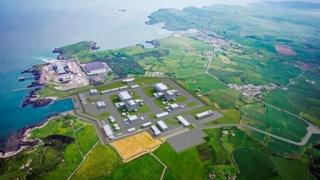 Construction in Wales will grow at nearly three times the UK average in the next five years, a study indicates.
The Construction Skills Network forecast has predicted an annual average growth rate of 7.1% in Wales and 2.5% for the rest of the UK.
More than 27,000 jobs will be created, the research suggested.
Wylfa Newydd in Anglesey, major road schemes across Wales and Cardiff Central Square are among the projects expected to contribute to the growth.
Mark Bodger, from the Construction Industry Training Board, which released the report on Wednesday, said: "All types of training, and especially apprenticeships, will be vital to delivering this pipeline of work.
"This positive forecast should inspire more people to start apprenticeships, and more firms to take them on."
Welsh Finance Minister Jane Hutt said the construction industry played a "vital role in helping us as a government achieve our ambitions for infrastructure investment".
The report was "yet more evidence" of the success being achieved through "strong partnerships" with key bodies, she added.