Poor schools hurt doctor recruitment, says Tory AM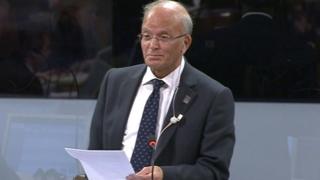 Wales is struggling to recruit junior doctors because they do not want their children educated in its schools, a Conservative AM has suggested.
Labour AMs jeered ex-orthopaedic surgeon Altaf Hussain as he raised the issue at First Minister's Questions.
He said: "Many newly-qualified doctors in England refuse to come to Wales because they don't want their children educated here - that is a fact."
First Minster Carwyn Jones called the claim "absolutely extraordinary".
Mr Hussain argued the "state of our education" was "one of the major barriers to recruitment of doctors".
Mr Jones replied: "I utterly reject the idea, and that the message from the Conservative Party to medics should be don't come to Wales because of the education system.
"Where is their Welshness, where is their loyalty to Wales?"
"We have no difficulty in recruiting doctors in Wales," he added.