Authors and publishers warn over funding cuts in Wales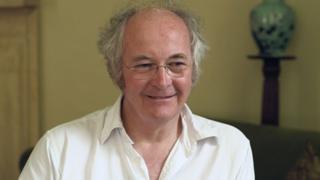 Author Philip Pullman has thrown his weight behind a campaign to save the Welsh Books Council from a funding cut.
The Welsh government is reducing its grants to the organisation by 10.6% - about £370,000 - in 2016-17.
Independent book publishers and about 200 writers have written to ministers asking them to reconsider. Mr Pullman tweeted his support.
The Welsh government said it was discussing efficiency savings with the books council.
Authors - including the national poet of Wales, Gillian Clarke, novelist Rachel Trezise, and poet Menna Elfyn - have signed a letter to culture minister Ken Skates, warning the cuts are "unjust" and "amount to self-sabotage".
"The publishing industry of Wales is now facing a cut that is approximately double that of other prominent bodies which provide services to the culture of Wales," they argued.
On Monday, Mr Pullman, author of several books including the His Dark Materials trilogy, tweeted the Welsh Books Council, asking to be added to the petition.
Independent publishers, who have also written a separate letter to the minister, added: "Without that support it would be increasingly impossible for writers in Wales to be published in Wales to any level of commercial competition with the publishing behemoths in England.
"Funding from the WBC helps to level the playing field and to enable success."
A Welsh government official said UK treasury funding had been cut significantly since 2010 and that meant "difficult decisions have had to be made in order to protect the services that people rely on the most".
"We're in discussions with the Welsh Books Council about how they will make efficiency savings, while prioritising and targeting its grant programmes to support the publishing industry in Wales and protect jobs as far as possible," said a spokesman.
The Welsh government also said it had made additional funding available to the WBC for urgent work on its headquarters and distribution centre and to update IT systems.