S4C, trains, PMQs and 'a constitutional crisis'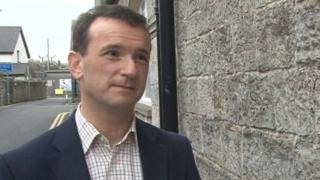 Well the first Welsh Questions of the year - what did we learn?
Unusually, perhaps, no-one asked about the draft Wales Bill - the UK government's blueprint for the future of devolution. Plaid Cymru's Jonathan Edwards did raise the issue during prime minister's questions, warning of a "constitutional crisis" if the National Assembly for Wales voted against it. David Cameron said the Bill was about extra powers but said the government was listening.
The Lib Dems and Plaid Cymru both went on the proposed cuts to S4C - after the prime minister said last week that he would keep to the spirit and wording of his manifesto commitment to protect the channel's funding.
Wales Office Minister Alun Cairns replied: "We will meet our manifesto commitment to safeguard thefunding and editorial independence of S4C and you will have heard the prime minister's words when he said that we will meet the wording and spirit of our manifesto commitment."
So no sign of a cheque but one is surely in the pipeline given what the prime minister said and the relatively small (by government standards) sum involved.
Stephen Kinnock and Jonathan Edwards asked about the steel industry - Stephen Crabb said the government was in touch with Tata over the future of Port Talbot.
A lot of question time was taken up with transport. The Shadow Welsh Secretary Nia Griffith said Wales is missing out to England on rail investment.
Gower Tory MP Byron Davies asked Mr Cairns to repeat the government's commitment to electrify the rail line to Swansea. Mr Davies got that commitment - but no date for the first electrified train to arrive.
Another Tory, David TC Davies, wanted to know when the Welsh government was going to improve the M4. Alun Cairns said that had been on the agenda since William Hague was Welsh Secretary. Whatever happened to him?