Extremists grooming pupils in Wales, schools are warned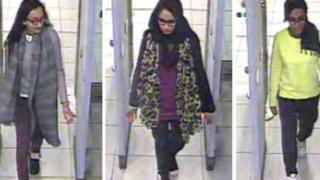 Schools in Wales are being urged to spot the signs of pupils being groomed by extremist groups.
Growing concerns about jihadist recruitment has prompted an update to guidance on safeguarding children.
It said 41 youngsters aged under 18 had been referred to police in the last three years amid fears they were at risk of radicalisation.
Teachers are asked to be alert to changes in pupils' behaviour, and to be aware of targeting via social media.
'Question of balance'
Conflict in the Middle East involving Islamic State militants has given a new twist to the drive to promote safer and more united communities, originally set out in the 2011 Respect and resilience document.
"At a time where terrorist threats are often in the news, and friends and foes alike may come under suspicion and surveillance, there is a real need to assess the question of balance," the updated guidance said.
"On the one hand it is important to allow learners the freedom to be different, to be experimental, to have strong views and to have challenging ideas.
"On the other hand, it is equally important to keep learners safe from all forms of abuse and neglect, including exploitation, bullying, grooming, radicalisation, violent extremism, harassment, hate crime and violence."
School staff are urged to be aware of any changes of behaviour, appearance, group allegiance and attitudes in children while avoiding any stereotyping or generalisation.
The 2015 Counter-Terrorism and Security Act places a duty on schools to "have due regard to the need to prevent people from being drawn into terrorism".
In 2014, academic Dr Suraj Lakhani from Cardiff University warned about the radicalisation of young Muslims after two men from the city appeared in a jihadist video.
One of them, Reyaad Khan, 21, was later killed by an RAF air strike in Syria in August 2015.
Last July, Education Minister Huw Lewis proposed changes to religious education in schools in Wales aimed at promoting respect and understanding for other cultures, encouraging pupils to consider "what it means to be a citizen of a free country".