Welfare scheme 'should be Wales-run' says think tank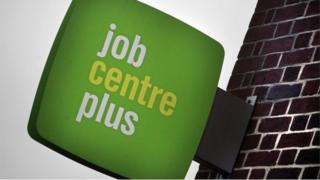 Ministers in Wales should be given responsibility for the UK government's flagship welfare-to-work programme to boost results, a think tank has said.
The Public Policy Institute for Wales (PPIW), set up by the Welsh government, said the Work Programme's performance in Wales was worse than the UK average.
The Department for Work and Pensions (DWP) said the scheme helped contribute to record levels of employment.
But the Welsh government claimed it could run it more effectively.
The £5bn initiative - launched in 2011 - replaced a number of different schemes and is aimed at helping the long-term unemployed find a job.
It is run by providers who offer support and training to people on jobseeker's allowance (JSA) and employment and support allowance (ESA).
The providers are paid on the basis of the number of people finding and staying in work.
The PPIW report into its performance was commissioned by the Welsh government's deputy minister for skills, Julie James.
Health issues
Author Dave Simmonds said welfare-to-work programmes in Wales needed to consider "key differences" such as a higher proportion of unemployed people with disabilities or long-term health problems.
He added: "Any replacement for the Work Programme in Wales will also need to balance training, job search and general employability measures due to the projected future surplus of low skilled workers and shortage of highly qualified people."
A DWP spokesman said: "More than 480,000 people across Britain, including 23,000 in Wales, have moved off benefits and into work through the Work Programme.
"This has helped contribute to the record levels of employment we're seeing today.
"We want to build on this success which is why we are creating a new 'Work and Health Programme' to provide further support to those with long-term health conditions and disabilities, so that they can return to work and enjoy the benefits of having a career.
"We will be working closely with the Welsh government, as well as a range of other stakeholders, to develop and deliver this new programme."
A Welsh government spokesman said: "The report confirms what we have maintained for some time - that there are clear advantages to devolving employment programmes to Wales.
"This would provide an opportunity to better align skills provision to support unemployed people into sustained employment.
"We will continue to work with DWP to understand how the new Work Programme will operate in Wales and to consider the opportunities for further transfer of responsibility in this area."