Jeremy Corbyn's reshuffle handling 'disastrous' says MP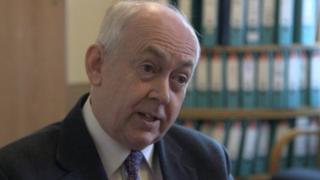 Jeremy Corbyn's handling of his shadow cabinet reshuffle "was pretty disastrous", a senior Welsh Labour MP has said.
Caerphilly MP Wayne David, a shadow minister in Labour's justice team, has said he and his colleagues have told Mr Corbyn lessons must be learnt.
It comes as Cardiff Central MP Jo Stevens called for the party to "unite" after joining the front bench.
She has been appointed shadow minister for prisons.
Mr David said he had not considered following Welsh Labour MP Stephen Doughty and resigning from his post.
"I think it's our duty to make sure that he [Corbyn] is an effective leader and to that end I will work and do whatever I can to make sure that happens," he said.
Mr David said he had made suggestions to his leader on how Labour could become an effective opposition.
"Some he accepts and it has to be said to that many he doesn't accept, but nevertheless I will keep on trying because at the end of the day we all have to work together to make Labour effective," Mr David added.
Earlier, Ms Stevens said she did not want to "hear headlines about internal party wrangling".
She called on her colleagues to "get on with the job" of challenging the Conservative government.
On Wednesday, Cardiff South and Penarth MP Stephen Doughty quit his role as shadow foreign office minister.
He was one of three Labour MPs who quit the party's front bench in protest at sackings made by Mr Corbyn in his reshuffle.
Reflecting on her new role, Ms Stevens said she would concentrate on tackling problems of "over-crowding and under-staffing" in prisons and the probation system, which she called a "mess".
Ms Stevens was elected as an MP at last year's general election.