Resignation sparks uncomradely war of words among MPs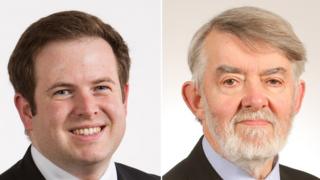 Stephen Doughty has never been a Corbynista. But the Cardiff South and Penarth MP agreed to serve on Jeremy Corbyn's front bench because of the large mandate Mr Corbyn received in the Labour leadership election.
That agreement ended with the sacking of his colleague Pat McFadden as shadow Europe minister around 11pm on Tuesday. Mr Doughty arrived on the BBC's Daily Politics to announce his resignation as a foreign affairs spokesperson.
His departure was lamented by his boss, shadow Foreign Secretary Hillary Benn, who tweeted: "Really sad to lose @SDoughtyMP from the team. I will miss his wisdom, insight and comradeship, and I wish him all the best."
Another colleague, Newport West MP Paul Flynn, was less sad. He tweeted: "Steve 'who?' Doughty resigns as part of Revolt of Unreformed Blairites uses wild divisive language. One Leader. One Party. One Enemy."
'Lightweight'
He added: "Corbyn-Victory deniers in uber rant. Poor losers in denial on JC's victory. Celebrate departure of lightweights. Better replacements coming."
Mr Flynn later deleted the tweets but not before Mr Doughty had shared them with his followers and responded to his 'comrade neighbour': "You've known me since I was 10 years old Paul ;) let alone that I am next door constituency to you.
"And you know full well I am hardly a lightweight..."
UPDATE: Mr Doughty has now suggested they settle their differences over a pint, which he says he'll buy.