Welsh civil service has had a 'steep learning curve'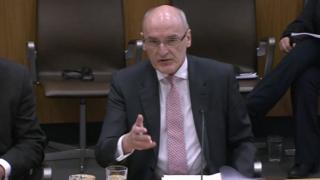 Law-making and tax powers for Wales have involved a "steep learning curve" for civil servants, the Welsh government's top official has said.
Permanent secretary Sir Derek Jones said the assembly was no longer making "minor amendments" to English laws.
"Big uncertainties" remained over the next stage of devolution although more responsibilities were coming, he added.
One challenge included the creation of a Welsh Treasury against a backdrop of "continuing financial restraint".
New powers were part of a "triple challenge" facing the Welsh civil service of more than 5,000 staff in 2016, Sir Derek told the Civil Service World website.
He said his first priority was to implement the remaining pledges of the current Labour government before the election in May.
The second would be "helping the new government - whatever its composition - to hit the ground running".
"With 16 years of devolved administration under our belts I'm confident that the organisation will do that with its customary responsiveness and professionalism," Sir Derek added.