Rare Argentina invitation for UK minister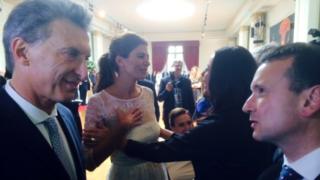 A Wales Office Minister has become the first from the UK government to attend the swearing in of a new Argentinian president this century.
Alun Cairns wants a "constructive and positive relationship" with Mauricio Macri's new centre-right government.
Disputes over the Falklands have strained UK-Argentine relations.
Mr Cairns will also discuss cultural links with Wales as Argentina marks the 150th anniversary of Welsh settlers arriving in Patagonia.
He represented the UK at the inauguration of the new president on Thursday, the first time a UK minister has attended such an event since 1999.
Mr Macri has promised more pro-business policies than his husband-and-wife predecessors Nestor Kirchner and Cristina Fernandez de Kirchner, who between them held power for 12 years.
He is also expected to take a less aggressive position with Britain over the Falkland Islands while maintaining Argentina's claim to them.
First Minister Carwyn Jones visited Argentina in July to join in the Patagonia anniversary celebrations.
In 2001, Tony Blair became the first serving British prime minister to visit the country.