Carwyn Jones concerned at lack of contact with Cameron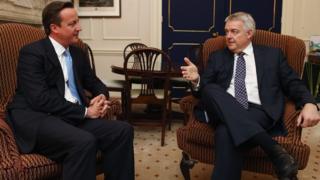 First Minister Carwyn Jones has said a lack of meetings with David Cameron makes it difficult to discuss "issues of importance".
He told a committee of MPs relations between their two governments had "declined" over the past two years.
"We do not have regular contact with the prime minister and the letters are not always answered," Mr Jones said.
He added the heads of the four UK governments had not met as a group for 15 months.
Mr Jones was giving evidence to MPs on the Public Administration and Constitutional Affairs Committee (PACAC), visiting Cardiff on Monday.
'No real machinery'
He said he last met the prime minister in June, and spoke of his concern at the lack of opportunity to discuss constitutional issues such as the Wales Bill.
"The contact I have with the UK government is via the secretary of state for Wales, but there's no real machinery for a regular heads of government meeting," he said.
"The consequences of this is that it's not possible to discuss issues of importance."
The assembly's presiding officer, Dame Rosemary Butler, told the committee it would be "very difficult" to develop formal links between AMs and MPs.
She recommended contact on a case-by-case basis, saying an idea such as a joint committee on devolution would clog up diaries, especially as there were only 60 AMs.
"We're short of resource here in terms of the numbers we've got." she said.