Transport industry on board with Metro project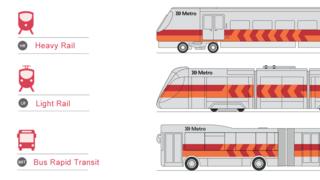 Transport industry experts are ready to get on board with a £600m road and rail Metro project for south Wales, the first minister has said.
Carwyn Jones welcomed the interest from potential bidders to finance, create and run an upgraded public transport network from Bridgend to the border.
Ahead of a public awareness campaign being launched in Pontypridd, he said it would be a "catalyst" for transforming the nation's economic and social prospects.
Formal consultation begins in 2016.
Promising faster journey times and more frequent services, Mr Jones hailed the Metro as "an ambitious project linking people and jobs across south Wales in a fast, efficient and environmentally positive way".
"The Metro is far more than just a transport project," he said.
"It will be a catalyst for transforming the economic and social prospects of south east Wales and the country as a whole.
David Stevens, chief executive officer of Cardiff-based insurance company Admiral, and an adviser to the Welsh government on the Metro project, said many of his firm's 5,000-plus staff travelled to work by train.
"The quicker, more frequent, more reliable services that the Metro can ultimately offer will make a huge difference to their quality of life and help encourage even more of our staff off the roads and onto trains," he said.
Metro train services would form part of the all-Wales rail franchise, to be run after 2018 by a not-for-dividend company being set up by the Welsh government.
Opposition parties have broadly welcomed the Metro scheme, but have asked for clarity on costings and to what extent it will improve on existing bus and rail services in south Wales.