Lib Dems to fight police and crime commissioner elections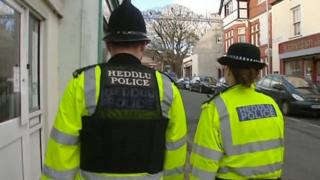 The Welsh Liberal Democrats will stand in the 2016 police and crime commissioner (PCC) elections which they did not contest in 2012.
Leader Kirsty Williams said they were still opposed to PCCs but felt they had to put up candidates to promote an "open, free and tolerant society".
"We won't stand by and allow the other parties to encroach on our freedoms and diminish our liberties," she said.
The elections will take place in May on the same day as the assembly election.
The commissioners have a range of powers including appointing the force's chief constable and setting the force budget, although they have no say over day-to-day policing decisions.
Of the four Welsh commissioners, Labour and the Tories have one each, with two independents.
In October, Plaid Cymru said it would contest the elections in 2016 for the first time to campaign for the protection of community policing.
UKIP contested the election for one of the four Welsh posts - North Wales - in 2012.