Betsi mental health ward report's 'extraordinary delay'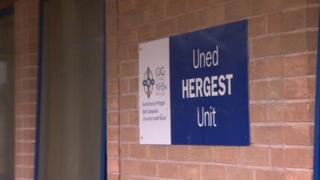 A two-year old report warning a hospital mental health unit was in "serious trouble" and providing "worrying standards of care" has just been released.
Betsi Cadwaladr Health Board said problems in the Hergest unit at Ysbyty Gwynedd, Bangor, had been addressed.
A redacted copy of the report's summary was given to AMs on Monday.
Shadow Health Minister Darren Millar said it was "extraordinary" the findings had not been shared sooner.
A separate inquiry into the Tawel Fan mental health ward at another north Wales hospital - Ysbyty Glan Clwyd - led to the board being put into special measures by the Welsh government.
A review of the 42-bed Hergest psychiatric unit was commissioned after complaints by staff in 2013.
The report's author Robin Holden said that, apart from one of the wards, the unit was "in serious trouble" at the time.
Staff relationships had "broken down to a degree where patient care is undoubtedly being compromised", he said.
Questioned by the assembly's public accounts committee on Tuesday, Betsi Cadwaladr chairman Dr Peter Higson and interim chief executive Simon Dean could not confirm whether the report was shown to the Welsh government and the watchdog Healthcare Inspectorate Wales after it was written.
They said the investigation was pursued "as a confidential matter" after staff blew the whistle.
Mr Millar, who chairs the committee, said: "It's very clear that there were serious misgivings about another mental health unit in north Wales as far back as January of 2014.
He added: "I find it extraordinary that these pieces of information, these reports, were not shared with the healthcare inspectorate, weren't shared with the Welsh government."
In a statement, a Betsi Cadwaladr spokesman said the Holden report was a "valuable independent review and assessment of the issues that were causing staff concern at that time".
Action had been taken to address the report's recommendations, including a restructuring of the board's management of mental health services, he added.