Bass fishing ban by EU sparks industry anger in Wales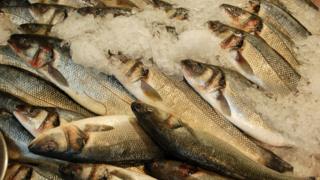 Plans for an European Union ban on bass fishing for six months from January has prompted an angry reaction from a group representing more than 80 commercial fishing boats in Wales.
The European Commission said the ban was needed to help halt a "dramatic decline" in stocks.
Stephen De-Waine from the West Wales Shellfishermen's Association said it would have "devastating" consequences.
He has written to Welsh Euro-MPs urging them to fight to stop the ban.
A statement on proposed EU fishing quotas said sea bass was a "special case", and extra measures were needed to "halt the dramatic decline in this important stock".
The commission proposed a complete ban on sea bass fishing for commercial vessels and recreational anglers for the first six months of 2016.
For the second half of the year, a one tonne catch limit for boats and a one fish bag limit for recreational anglers was recommended.
The commission also proposes to maintain the closure for commercial fishing around Ireland.
In the letter to Euro-MPs, Mr De-Waine said: "It will have devastating economic consequences for not only Welsh fishermen, some of who rely totally on catching bass for a living, but also with all the fish buyers and businesses which provide fishermen with consumable and non-consumable goods to support their businesses."