Lib Dem efforts to block AMs' £10,000 pay rise fail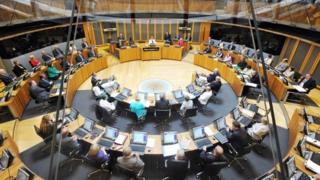 Liberal Democrat attempts to stop a £10,000 pay rise for AMs have failed.
The Lib Dems tried to block the £52m assembly running costs budget.
The budget for the assembly commission - the body responsible for the day-to-day running of the assembly - includes extra funding to cover an 18% increase in the basic pay of a backbench AM.
An independent board sets AMs' pay, but the Lib Dems hoped to use a vote on the assembly commission's budget to force the board to re-think its decision.
The budget includes £36.5m for the commission - a 1.5% real-terms cut - and another £15.5m to pay for the independent remuneration board's decision.
Welsh Lib Dem leader Kirsty Williams said: "Today we are being asked to vote for a budget that includes an increase of £1.1m to help cover an 18% pay rise in the basic salary of an assembly member."
'Devastate'
In a debate in the Senedd, AMs pointed out the board was created after the Westminster expenses scandal to stop politicians in Cardiff Bay making decisions about their own salaries.
Plaid Cymru AM Rhodri Glyn Thomas accused the Lib Dems of "political playmaking".
Deputy presiding officer David Melding said the assembly commission had a legal responsibility to provide the funds needed to deliver the board's decisions.
"You cannot pick and choose in this process because you just devastate the principle of independence," he said.