Barnett funding floor debate a taste of rows to come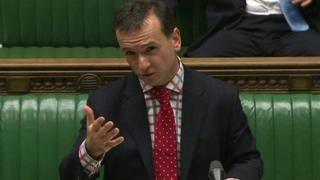 MPs are enjoying a brief recess. allowing them to recover from Monday's constitutional marathon in Cardiff Bay and prepare for meaty events to come.
Chief among these is the chancellor's autumn statement on November 25, which will feature three aspects of particular interest to Welsh political observers - the spending review, changes to tax credit cuts and the introduction of what the Wales Office calls the "historic" Barnett floor.
This is the oft-promised mechanism to ensure Wales does not lose out relatively from changes in public spending. According to Mr Osborne, it will mean Wales will always be better-funded [per head] than England.
What's not to like? Caerphilly MP Wayne David said during a Westminster Hall debate on Tuesday that "at a time of falling public expenditure, when cuts are being made, the Barnett floor is not really an issue. It is only an issue at a time of increasing public expenditure.
"It is relatively easy for the government to introduce the Barnett floor now, and I suggest they should, but its real impact will be in the future, when expenditure increases."
That didn't stop MPs spending half an hour discussing whether Wales should have a Barnett floor in a debate led by Torfaen Labour MP Nick Thomas-Symonds. Wales Office Minister Alun Cairns said the UK government would stick to its pre-election pledge to introduce a floor: "We said we would do it last March and in our manifesto, and we will introduce it alongside the next spending review."
Economist Gerald Holtham's ears were probably burning throughout the debate, as Labour MPs highlighted his commission's 2009 work that suggested Wales was under-funded.
Mr Cairns said the gap between spending in Wales and England would not narrow this year: "Holtham's logic also illustrated that the relative level of funding per head had risen, or diverged to use the technical term, and it is now in the range that the commission regarded as fair."
So the floor may be "historic" but don't expect it to change your life any time soon. The debate did give a taste of the arguments to come over the spending review. Labour said Wales had been short-changed by the Conservative (previously coalition) government; Plaid Cymru called for parity of funding with Scotland and the Conservatives pointed out that Labour had not introduced a floor during its 13 years in government (when spending was rising).
Expect more of the same on November 25. In other news, Conservative MPs who voted to cut tax credits appear to have changed their mind.