Rhetoric ramped up on constitution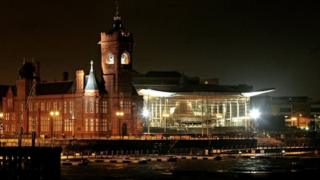 The Conservative Cardiff North MP Craig Williams ramped up the rhetoric on the constitution when he said on Sunday Politics Wales: "If we had the same emotion when Betsi Cadwaldr was put into a support stage for the next two years.
"If we had the same emotion around the NHS and education, I would have a bit more time for the first finister.
But the fact that he could get so emotive and angry and furious about the draft Wales Bill, not even the final product, is incredulous."
The Conservatives have been using the constitution as a stick to beat the first minister with for a while now.
They regularly accuse Carwyn Jones of navel-gazing on powers, but this is the most personal attack yet.
Obsessed
The implication is clear and serious: the first minister is more interested in dealing with the constitution than dealing with the NHS and schools.
It's fair to say that Carwyn Jones embraced the subject of constitutional change in the months surrounding the Scottish independence referendum, but he's the one who is now accusing the Tory Welsh Secretary Stephen Crabb of talking about nothing other than powers.
No-one wants to be seen to be obsessed with the constitution, not even Plaid, as my colleague David Cornock points out. It's clear the parties think it's a turn off for voters.
Nevertheless, it hasn't stopped them taking chunks out of each other.
Carwyn Jones said the draft Wales Bill amounted to an English veto on Welsh laws, while Stephen Crabb said the never-ending debate threatened Wales' economic potential.
The colourful rhetoric is in dramatic contrast to the language which makes up the bill itself. If you don't believe me just click here.
Scrutiny
A more studied period of scrutiny will now get underway, as AMs and MPs go through the meat of the draft bill.
The contentious areas are around the various consents that Whitehall will have to give to assembly bills, and over a test of necessity.
Stephen Crabb says he's in listening mode, which would suggest he's open to change.
Behind the scenes, the first minister's advisors are angling for change and modifications which again would suggest they're keen to strike a deal, rather than bring the process down.
I'm told that behind the scenes the two men get on well, despite the language both have been using, which again would suggest something can be done.
There's a long way to go first.
It begins with assembly members having their full say on the matter in a debate in the Senedd.