Smith clashes with Corbyn over whether to cap benefits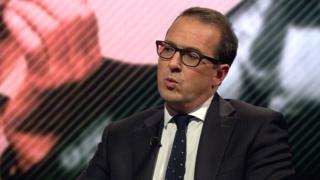 Shadow work and pensions secretary and Pontypridd MP Owen Smith has contradicted Labour's new leader on the issue of capping benefits.
Jeremy Corbyn told the TUC conference on Tuesday that he wanted to "remove the whole idea of the benefit cap".
But Mr Smith told the BBC the party was "very clear" that it was only opposing UK government plans to reduce the cap from £26,000 to £23,000.
He said Labour was "in favour of limits on what individuals can draw down".
Speaking to BBC Two's Newsnight programme, Mr Smith said it would be "foolhardy" to oppose a policy that had wide public support.
After being told Mr Corbyn had said the cap should be scrapped altogether, Mr Smith responded: "No, our policy is to review that aspect of it - we are very clear.
"We are in favour of an overall reduction in the amount of money we spend on benefits in this country and we are in favour of limits on what individual families can draw down.
"Because I don't think the country would support us saying we were in favour of unfettered spending."
At the TUC, Mr Corbyn said: "The reduction in the benefits cap has the effect of socially cleansing many parts of our towns and cities.
"Owen Smith and I had discussions last night about amendments we are going to put down to the Welfare Reform Bill and as far as I'm concerned the amendments we are putting forward are to remove the whole idea of the benefit cap altogether."
Mr Corbyn has also faced criticism over his decision not to sing the national anthem at a service to mark the 75th anniversary of the Battle of Britain.
A spokesman for Mr Corbyn said he had "stood in respectful silence" and did recognise the "heroism of the Royal Air Force in the Battle of Britain".
Mr Smith told Newsnight he would have advised the Labour leader to sing the national anthem "irrespective" of his belief the monarchy should be abolished.
Mr Corbyn made his debut at Prime Minister's Questions on Wednesday, and is meeting First Minister Carwyn Jones for the first time later in the afternoon.